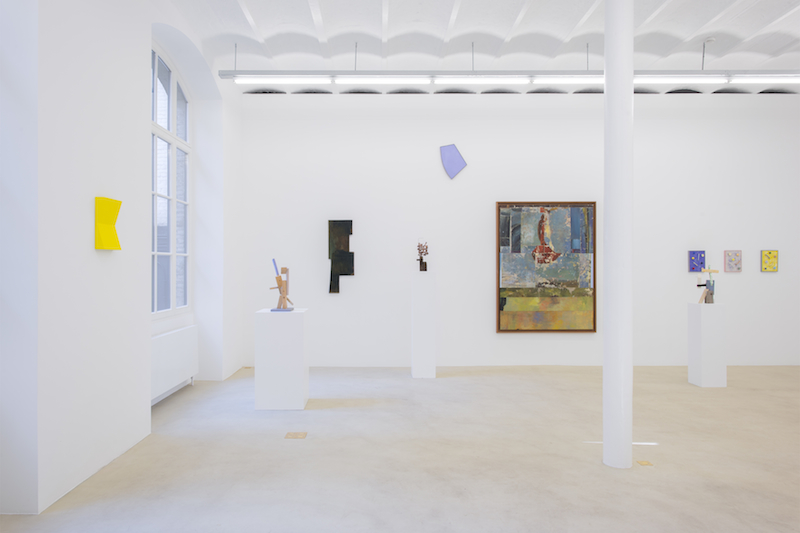 About
Graham Collins, Noam Rappaport & Jeffrey Tranchell
11.09.15 → 07.11.15
Brussels Art Days
Graham Collins
Focussing on the conditions and structures of production, Collins' practice highlights the physicality of the works beyond his own hand, thereby denying the idea of a visible author. The techniques Collins employs are generic yet carried out within very specific delineations of his practice allowing the artwork a gentle resistance of definition and questioning of context and acknowledging many of the issues surrounding contemporary art production and re-emphasising the individual creative act.
Noam Rappaport
Teetering between painting and sculpture, New York-based artist Noam Rappaport's hybrid open-form objects take on a character of their own. Through the use of commonplace materials, such as stretcher bars, nails, screws, and wiring, Rappaport's art approaches formalism through a decidedly informal process. His traditionally painted works on irregularly contoured and shaped canvases invoke the art of post-minimalist artist Richard Tuttle. In spite of the casual presence of Rappaport's work, its sense of order suggests an assured clarity of both thought and method that underscores the works' hybrid identity.
Jeffrey Tranchell
He uses store-bought home-improvement materials—MDF, corkboard, plastic hardware, ceramic knobs—to create three-dimensional compositions that fuse contemporary consumerism and 20th-century experiments in abstraction. In these assemblages, the individual components are presented almost without manipulation, in deceptively simple arrangements that highlight their blankness.
Artists
Graham Collins
Noam Rappaport
Jeffrey Tranchell