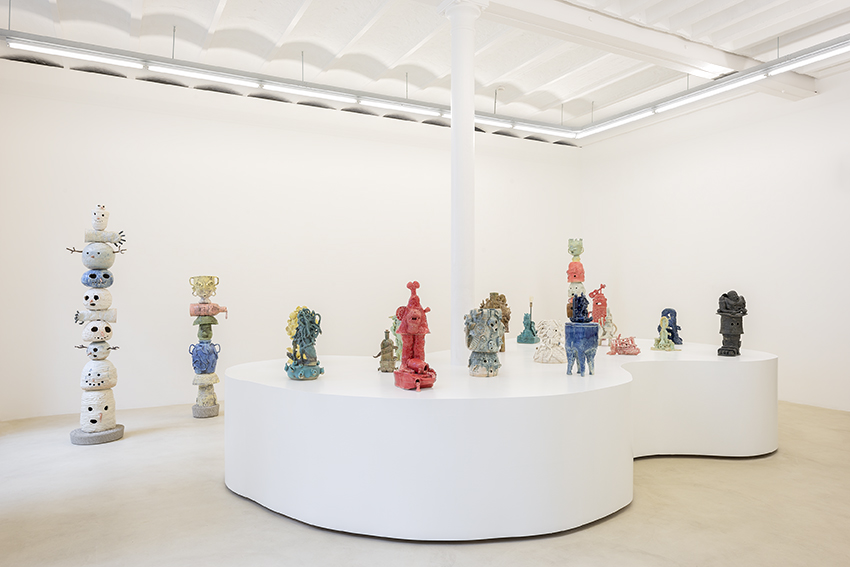 About
Eric Croes
Abécédaire – To my old friends
25.03.17 → 20.05.17
Sébastien Janssen – Sorry We're Closed is pleased to announce the first exhibition in his gallery of Eric Croes.
For several years Eric Croes (born in La Louvière in 1978, lives and works in Brussels) has been concentrating on developing themes close to his heart through the medium of ceramic.
Like numerous artists of his generation, the sculptor Eric Croes re-appropriates techniques and customs which have for a long time been juxtaposed. The adherence to art or to craftsmanship, to tradition or modernity, to art or design, to manual or technological tools, has often helped define his works. Through his personal interests and practice, Eric Croes goes beyond these pseudo antagonisms and invites us to witness a unique practice, the joy of working in the studio, a return to «doing» and the pleasure of DIY and working with your hands.
This current trend, which has been Eric Croes' way of life since he started out, reconnects with the world before the Lumières, those intellectuals who sought to rationalise and classify, only to end up in an 18th century which separated Fine Arts from craftsmanship, relegating a universe that populates the imagination of an entire society to the anecdotal, to folk art and to the world of childhood.
Eric Croes' psychological universe has culminated in a series of 26 sculptures in ceramic, bronze and wood. He has come up with an extraordinary alphabet primer that links notions of play, chance, imagination, humour, accidents, with incredible expertise. The artist's aesthetic is inextricably linked to mythology and the universe of the bestiary, both in emotional terms and in relation to form. The idea of the alphabet primer came about when Croes started sewing together pieces of blue denim in order to make a big patchwork. This creation evokes the memory of Eric Croes' mother who was always at her worktable, embroidering classic samplers in a red cotton cross-stitch or sewing together small pieces of fabric to make quilts.
The works in the exhibition were created in accordance with a rule, a simple protocol: take a sketchpad, assign a letter of the alphabet to each page, draw your favourite words there (his «old friends»). Next, create a three-dimensional assemblage of a selection of these words. A sculpture per letter. More often than not, the drawings are re-transcribed in ceramic with accidents involving clay, firing and enamelling.
Through the filter of drawing and then of sculpture, Eric Croes tells us a new story built up through the juxtaposition of incompatible objects and ideas. It is not so much the subjects that are of importance as their animist metamorphosis into an object which draws its energy from the spontaneity that the artist builds up with the world around him.