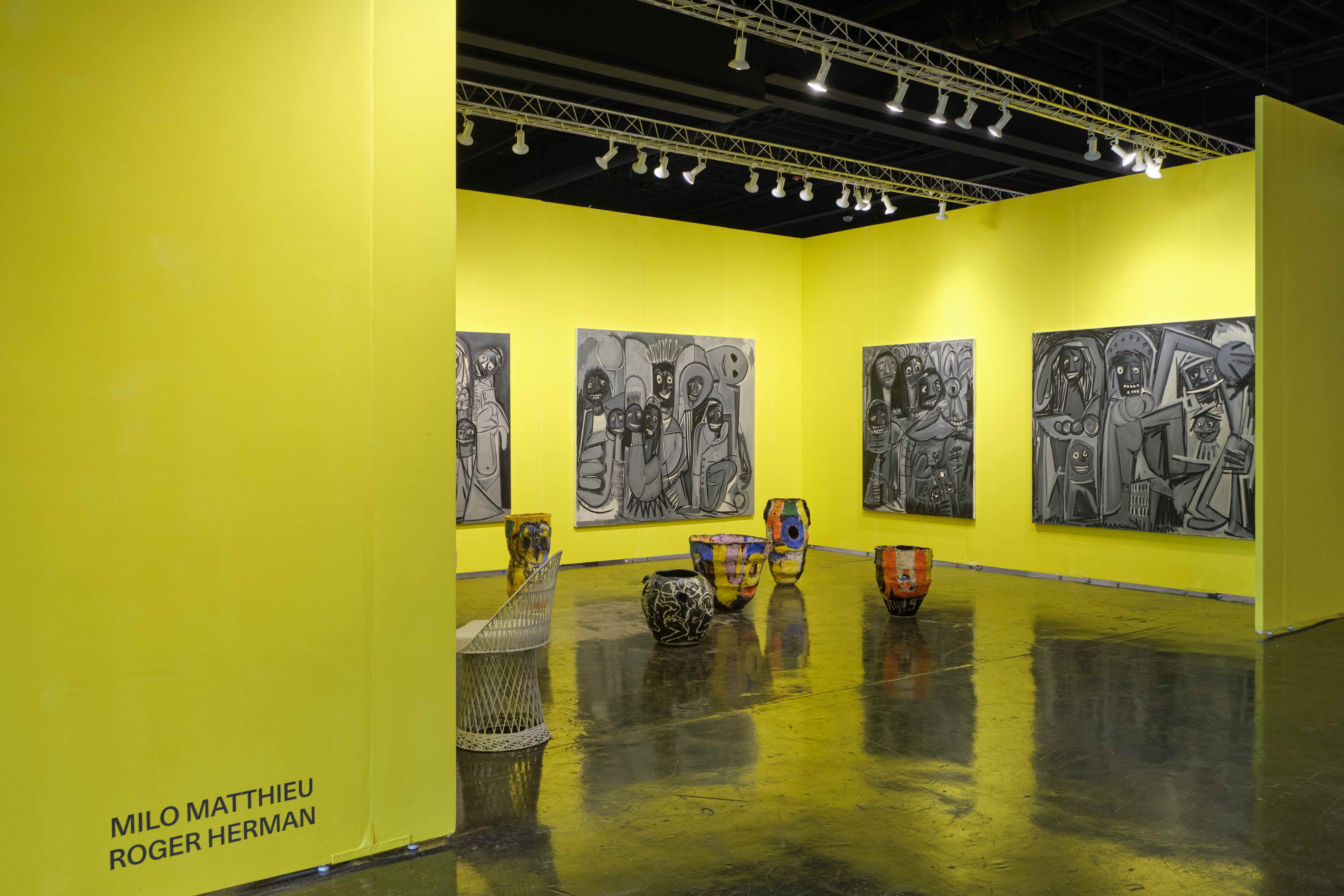 About
NADA MIAMI
Milo Matthieu - Roger Herman
30.11.22 → 03.12.22
For its participation at Nada Miami, Sorry We're closed invites two of the gallery's artists to propose a duo booth.
Milo Matthieu, American-Haitian artist, proposes a series of large format paintings,
« Whispers From a Distant Shores», on the theme of the carnival and Rara music.
The Rara, or Ban Rarà is a popular festival of colonial origin, that is part of the Haitian folklore. Slaves were allowed to sing and dance at the end of the week following the carnival of their masters and the last three days of the Holy Week. A Rara band is like a society ; it functions with different characters and figures.
During carnivals, one can see different costumed bands going through the streets, without obeying an organized procession. It is not a parade as we know it elsewhere, but an anarchic parade of independent masks that evokes the first inhabitants of the island, the Taino Indians, obliterated by the first Spanish conquistadores, or the revolts of slaves and maroon fugitives that provoked the revolution of 1804, the first example in the world of decolonization that made Haiti the first independent black republic of Latin America.
Roger Herman proposes a series of large format ceramics, which, as usual, are supports to talk about paintings and figures. Large, shapeless containers, the ceramic sculptures become a pretext for representation. Sometimes abstract paintings, sometimes parietal erotic ornaments, they embody faces, masks, representations of coded scenes.
The mixture of these two singular universes, weaving bridges between various forms of representations : carnivalesque, ritual, contextual, figurative, parietal, allows us to link two artists of different generations ; Roger Herman born in 1947, Milo Matthieu born in 1992 ; of different countries, having chosen to leave their country to live in another one, and to tell the indirect story through their artistic practices.