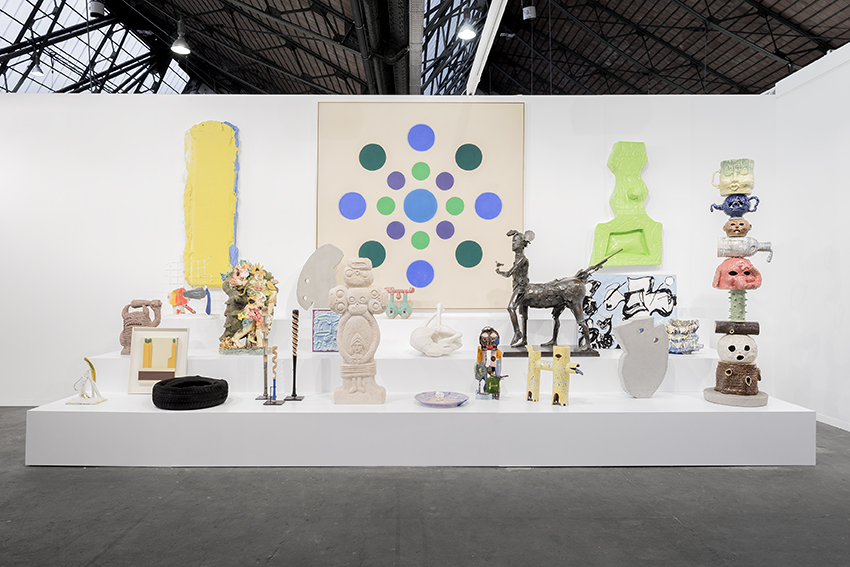 About
Art Brussels 2017
You are my Heroes
21.04.17 → 23.04.17
The first time when naive and childish fingers shape a square in the crumb of the hollowed out bread, this first time, this first consciousness which the shape amazes us, we find it in the fact that will be our future emotions in front of historical art works.
In the difference near that the second time, it is not on the kitchen?s table at snack time that the emotion occurs, but in a space dedicated to the monstration of Works of art. The access to this emotion is not immediate any more, it ensues from the expérience with which we are constituted.
A Chinese text from the XVIIIth century, in the poetic name of Sutra of the Stage, attributed to Huineng, flash of lightning this notion of perception. It puts in opposition two important notions: the subitism and the gradualism, or, for the second, it is a question of accumulating what is necessary for the realization of one by the supplied work, the efforts and the voluntary acquisitions. The first one, on the contrary, the subitism is fast, there is direct perception of the reality [...]
This philosophic text sends back to us to our relation in the art and the way we look at it, today, after years of experience, quantities of works seen since fairs up to museums, galleries at the art centers , private spaces to the studio of artists, so many displays, devices, cases built in the favor of the look of the spectators on what was going to be them given to see. Sometimes very fast, our perception is moved by the primary emotionnality which results from it, a I like or I don?t ike, subjective but which has the merit to be singular and personal. Sometimes, our perception, gradual, takes abstract bends, pushes us to an intellectual cogitation. Sometimes our perception of a work holds a little both.
Having already questioned the themes as the size (Small is Beautiful/2010), the farcical figure (The Big Clown Show/2011), The feminine and male nude (The Naked Thruth/2012), the materia (Plaster Mind, on 2013) an artistic movement (Surrealism Goes Bananas-2015), a color in 2016 (Green Doesn?t Sell), faithful to its tradition, Sorry We' re Closed suggests raising the subject of the presentation, the display.
You are my Heroes questions this problem and proposes for ArtBrussels on 2017 an installation in the shape of stage at 3 levels, frontal, taking the totallity of the booth and giving to see a mix of works of styles, of périods and of different origins, which will be put forward to value the monstration and abolish the hierarchy within the presented works.
In front of the booth Sorry We're Closed proposes a solo show of Josh Sperling.
Artists
Bram Bogart
Claire Fontaine
Latifa Echakhch
Eddie Martinez
Allan Mccollum
Raymond Hains
Zachary Leener