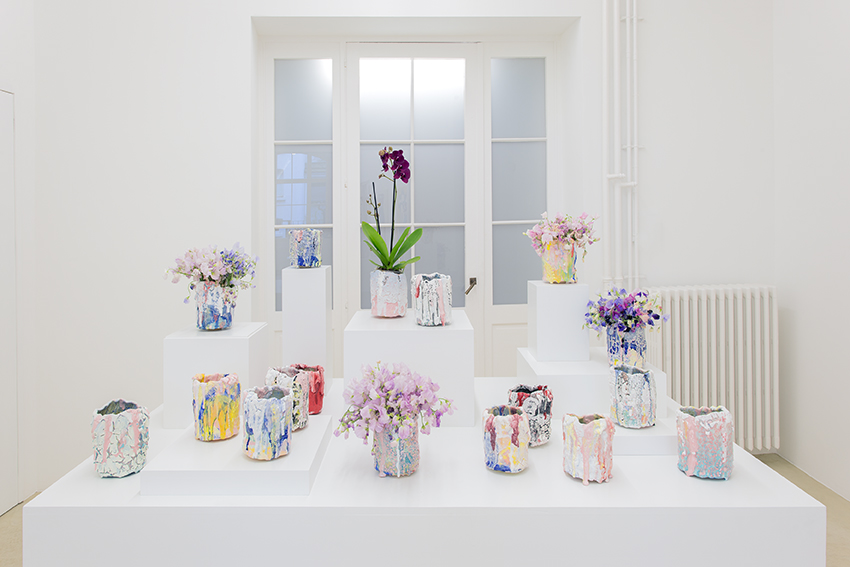 Brian Rochefort
Ceramics
11 June - 17 July 2015
Brian Rochefort
Brian Rochefort's sculptures flaunt the anxious states of disorder and chaos in the face of the viewer, reminding us that the Horror Vacui exists.
The seductive messes and goo that spread out in our lives, regardless of our attempts to contain them, are the insistent presence at the forefront of the work. Freezing untidy, murky moments, the works scream at us to pay attention and embrace the inchoate that looms. Grimey, unclear ideas turn into lovely liquid like globs and clatter moves toward clarity. The vessel simultaneously acting as canvas and laboratory.
Born and raised in Rhode Island Brian attended the Rhode Island School of Design. He was awarded the Lillian Fellowship from the Archie Bray Foundation for the Ceramic Arts in Helena, Montana 2007-2008.
Brian Rochefort
Brian Rochefort (b. 1985) lives and works in Los Angeles, CA. He holds a BFA from Rhode Island School of Design (2007) and participated in the Lillian Fellowship Residency at the Archie Bray Foundation (2009). Rochefort has participated in group exhibitions, at The Cabin (Los Angeles, CA), Sorry We're Closed (Brussels, BLG), Retrospective Gallery, (Hudson, NY), and Steve Turner Gallery (Los Angeles, CA). Rochefort was recently included in two museum exhibitions, "Regarding George Ohr" at Boca Raton Museum of Art, FL and "From Funk to Punk" at Everson Museum of Art, NY, both 2017
©All images on this web site are copyright and all rights belong to Galerie Sebastien Janssen
and the artists. No unauthorized used may be made of this content.