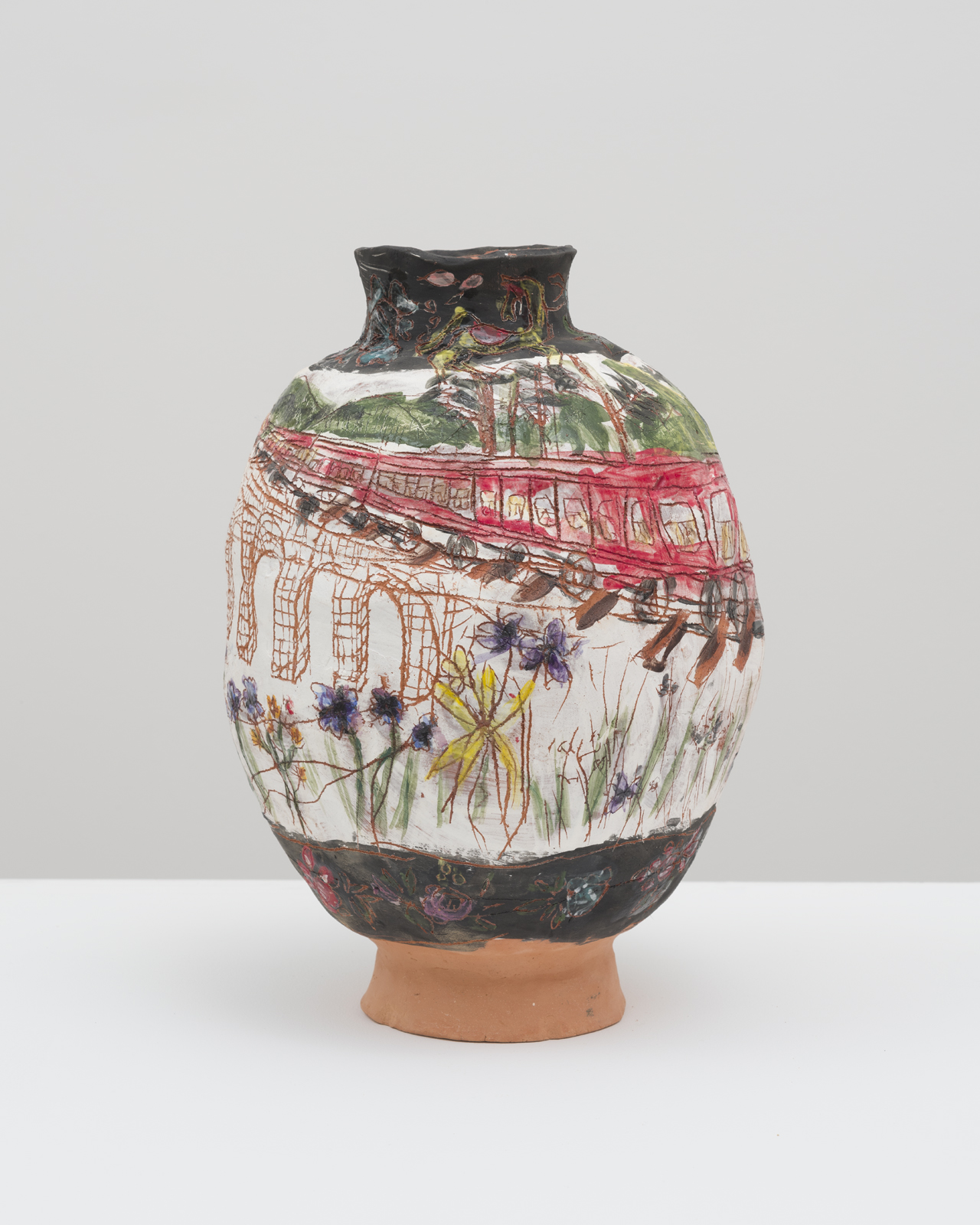 Jennifer Rochlin - Sorry We're Closed
About
Jennifer Rochlin
Inspired by a ceramic program that she was developing at a local school, she started experimenting with transposing her imagery from the canvas to the clay. Gradually Rochlin became more interested in the way that sculptures could work with narrative, so the vessels became the container of the story.
Rochlin's pots are created by gradually building up coils of clay in a spiraling fashion, through which the marks of her hand are left imprinted on the surface of the clay. For this reason, her pots possess a distinctive form, with their motifs at times depicted in response to those forms, weaving a story in three-dimensional space. The lush flora and fauna of California is often taken up as a motif. Other motifs include pop-cultural references, decorative patterns, personal narratives and more recently, art-historical references such as Brueghelgiving a new context to a world-famous artwork that has been prized for centuries.
The artist's work, which combines the positive aspects of two-dimensional painting and three-dimensional pottery, has garnered acclaim for their richness of expression.
Jennifer Rochlin was born in Baltimore, Maryland in 1968 and lives in Los Angeles, California. She received a Master of Fine Art from the School of the Art Institute of Chicago in 1999, participated in an exchange at the Universität der Künste, Berlin, Germany in 1998, and received a Bachelor of Arts from the University of Colorado, Boulder in 1991. Rochlin has had solo exhibitions with Maki Gallery, Tokyo, Japan (2020), The Pit, Glendale, CA (2018, 2020), Greenwich House Pottery, New York, NY (2019), Geary, New York, NY (2018) Lefebvre & Fils, Paris, FR (2018), and South Willard, Los Angeles, CA (2016, 2013). Rochlin's work has been featured in exhibitions such as Home Show, Revisited, Santa Barbara Contemporary Arts Forum, Santa Barbara, CA (2011); Open Daybook, Los Angeles Contemporary Exhibitions, Los Angeles, CA (2011); MKE-LAX, Milwaukee Institute of Art and Design, Milwaukee, WI (2012); Venice Beach Biennial, in conjunction with Made in LA, Hammer Museum, Los Angeles and Venice, CA (2012); Sculptures, 356 Mission, Los Angeles, CA (2013); Machine Project Guide to the Gamble House, Gamble House, Pasadena, CA (2014); Sex Pot, University of San Diego, San Diego, CA (2016); and The Brightsiders, Verge Center for the Arts, Sacramento, CA (2017). Rochlin is the recipient of the Individual Artist Grant from the Belle Foundation (2015) and the Durfee Foundation ARC grant (2007).